---
Fall Clothing Pre-Order time!
Due Date Oct 21st
 "Train Hard" Baseball Shirts and Hoodies- Black Uniform Pants with Red stripes and school Logo-AND our Retro "I am the Weapon" Military Green T-shirt
Shirts and Hoodies Available Ch Sm to Ch Lg and Adult Sm to XXL/Pants Sized like Uniforms- Size 00 to 8
Baseball Shirts ($24) Hoodies Shirts ($30) Striped Pants  ($25) "I am the Weapon" T Shirts ($20)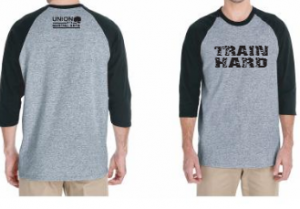 ---
SAMI International- Full SAMICS Concepts Workshops Oct 10-13
Sr Samics Instructor, Georg Platzer & SAMI UK's Paul Bennett will be covering every SAMICS concept for the 1st time in the USA.
SAMICS is an abbreviation for SAMI Combat Systems and is the umbrella term used to describe the collection of individual combat systems (or SAMICS Concepts) developed by Peter Weckauf and the SAMI Institute.
While all SAMICS Concepts share an underlying structure and didactic methodology and many training ideas are common to all training schedules each system has its own specific elements unique to itself.
Focus on these unique elements within each system coupled with easy interchangeability within SAMICS Concepts allows practioners to achieve a level of martial arts expertise difficult to find elsewhere.
 SAMICS Concepts are instructed in around 40 countries by certified and affiliated SAMICS instructors, training centers and training academies and are available for self-learning for anyone with an internet connection through our SAMI International Online Training platform: sami-international.com
Up until 2016 the only way to train in SAMICS was to travel to Europe. SAMI of NJ has been offering SAMICS Concepts classes and seminars for several years now, including hosting international events such as this!
SAMI International instructor training is world class and in high demand. Previously, traveling to Europe w
as the only option Americans had to access this training. Now, Peter Weckauf and his SAMI Combat Systems team are certifying instructors in America. SAMI UNION in Union NJ is the 1st SAMI Training Center in America.
Oct 10th– SDS (Self Defense Stick) Concept- 9am to 1030am
                Axe & Tomahawk Fighting Concept- 11am to 130pm 
                (Optional Axe Exam 230pm to 330pm*)
Oct 11th– Krav Maga Concept- 9am to 1130am
                Kapap/EBC (expandable baton) Concepts- 12pm to 230pm
Oct 12th– Stick Fighting Concept- 9am to 1130am
                Panantukan Concept- 12pm to 230pm
                (Optional Panantukan Exam 330pm to 430pm*)
Oct 13th-Knife Fighting Concept Defense- 9am to 1130am
               Knife Fighting Concept Offense- 12pm to 230pm
               (Optional Knife Exam 330pm to 430pm*)
***People wishing to participate in exams must contact course host in advance and meet SAMICS exam requirements)
---
Halloween Party!- Oct 19th 530pm to 8pm
Costume Contest, Pizza, Games,  Zombie Shoot, and more!
$20 For 1st person $10 for Additional
Fill out a form & Sign up today!
This is traditionally our biggest party of the year! Show off your costume and Halloween spirit!
Spaces Limited!!!!
---
---
Equipment Order Forms
There are Currently NO Deadlines for equipment. If you place an online order a staff  member will contact you with an order date.
Boards for All Blue and above
Sparring equipment for All Orange Testing for Green
Nunchucks for Jr Sr Blue belts testing for Brown
Black Belt Candidates
1st Degree Probationary Black Belts testing for Decided
2nd Degree Candidates
3rd degree candidates
Please let us know if you have any questions BEFORE placing your orders.