UNITED STATES MARTIAL ARTS HALL OF FAME – 3 Time SCHOOL OF THE YEAR
26 United States Martial Arts Hall of Fame Inductions
13 Best Business Commerce Awards
2019, 2020, 2021, 2022, & 2023 Highest Rated Martial Arts school in NJ
Voted one of the Top Martial Arts Schools by World Leaders Magazine 2023
Chief Instructor Robert Nichols 2021 & 2022 Martial Arts Hall of Fame "Man of the Year" as well as an Amazon #1 best-selling author!
No Colored belt testing or belt fees
Competitive monthly rates
Large multiple family member discounts
No long-term contracts
Large staff of assistant instructors
Open since 2001
Extra workout floor expansion in 2011 and again in 2014, 2015, and 2019
We focus on leadership skills, discipline, respect, confidence, character building, and much more
Specialized adult martial arts classes offered in combative, knife training, and no-nonsense personal protection
13-time winner of Best Business from United States Commerce Association
We teach a variety of martial arts styles including American Taekwondo, SAMI Combat Systems, Authentic Ninjutsu, ground tactics, kickboxing, Grappling, and tactical combat training
America's first SAMI Combat Systems International Training Center
We have been teaching anti-bullying and character development in public and private schools for over 10 years, reaching approximately 5,000 kids a year
WE ARE THE LARGEST MARTIAL ARTS SCHOOL IN UNION!
Family owned and operated since our opening in 2001, Union UTA (Unified Training Academy) started as a traditional martial arts school. With great respect to traditional martial arts, we choose to have more of an adaptive curriculum, evolving and adjusting to the needs of our students. Our martial arts training program has grown to include aspects of kickboxing, Ninjitsu, Judo, grappling, Kali, combative knife concepts, and dirty boxing. Not only do our students work toward their black belts in our system, but through the practice of many aspects of martial arts, focus on improving themselves as individuals. We think of ourselves as a personal improvement and self-defense school above all else.
In 2017, Union UTA became the first SAMI Combat Systems International Training Center in the Western world! With the partnership with SAMI founder, Peter Weckauf, Union UTA truly became an international school. This has helped us to open our program even more by offering SAMICS knife fighting, panantukan, axe fighting, and SAMICS Law Enforcement training.
Our organization not only benefits the students in our martial arts classes but also spends time giving back. For instance, the organization successfully raising over $50,000 for the Cystic Fibrosis Foundation. In the past several years, we have helped raise over $450,000 for children's charities. Other charities we have sponsored include The March of Dimes, COSAC, and various children's cancer organizations. Union UTA has always strives to give back to our community. With our leadership team spending time on community service projects.
Union UTA also hosts a number of other events annually, such as tournaments, demos, parties, and testing. We offer several training seminars throughout the year for SAMICS and children's special events as well. Union UTA also participates in many local events, fairs, and outings. We feel a personal responsibility to be involved with our community and its members.
Our constant mindset is to not stand still, but to grow and evolve. We can always adjust and grow. Not just our students, but as a business as well. We believe this constant state of growth is what helps set us apart as a community.
With different goals for both our children and adults, Union UTA's martial arts school focuses on each individual's goals and growth. So regardless of a student's reasons for joining our program, it's our commitment to excellence and service that help our students achieve. Contact us today to learn more and sign up for martial arts classes!
School Owner/Chief Instructor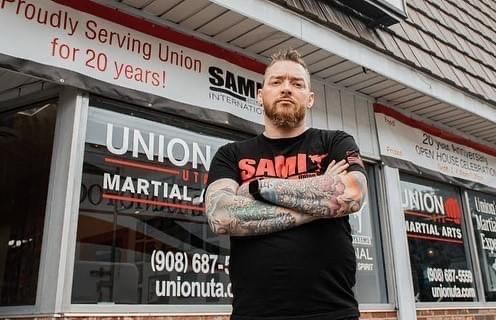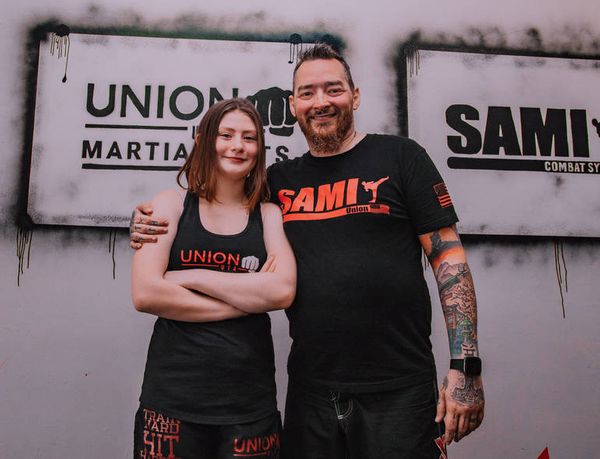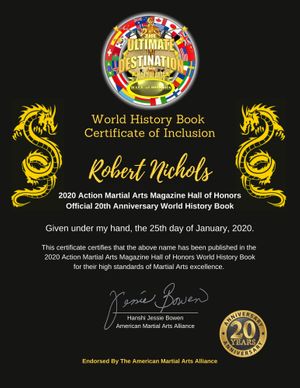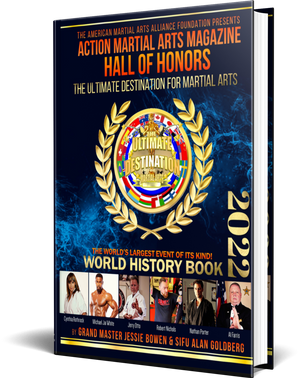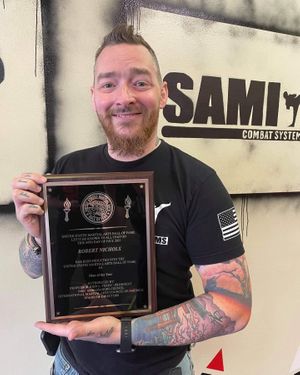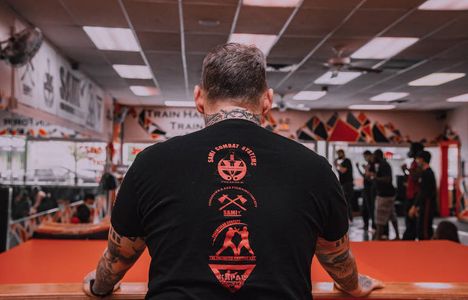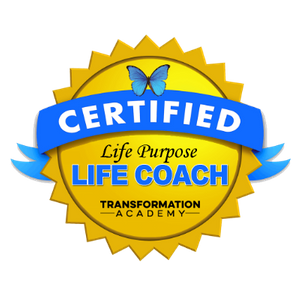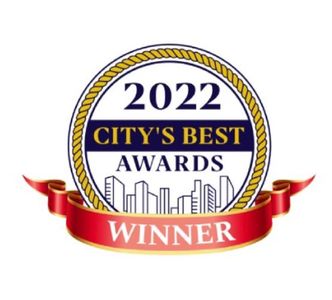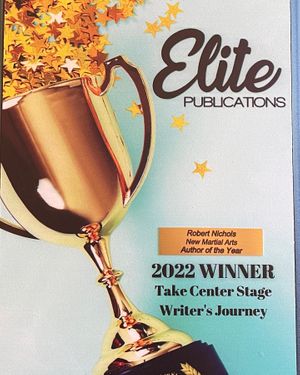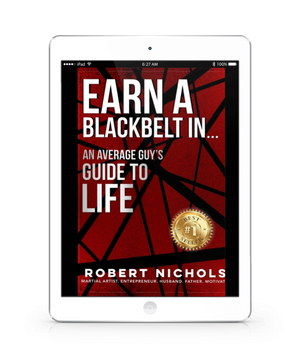 School owner/Chief Instructor – Robert Nichols has been studying martial arts for over 30 years. He has been the head of Union UTA (Unified Training Academy) since 2001 and is as passionate about learning now then he ever has been. Mr. Nichols currently holds 13 black belts from various martial arts schools and in different styles of martial arts. He is currently the highest-ranking SAMI Combat Systems Instructor in America, and in 2017 became the first sanctioned SAMI Training Center owner in America. He is licensed in SAMI Knife Fighting Concept, SAMI Panantukan concepts, SAMI Axe and Tomahawk Fighting Concepts, and SAMI Law Enforcement training concept. In 2019 he also learned the SAMICS Expandable Baton Concept for Law enforcement, and the SAMICS Defender for self-defense. A multiple-time inductee of the United States Martial Arts Hall Of Fame as "Instructor of the year," Most recently he was voted the 2021 Martial Arts Hall of Fame, "Man of the Year," and again, received this same accolade in 2022.
In 2022 Mr. Nichols released his 1st book, "Earn a Black Belt in...an Average Guys Guide to life." It is an Amazon #1 best-selling book, e-book, and audiobook. He is also a Certified Life Purpose Coach, Motivational Speaker, and Martial Arts Business Coach. To learn more about these ventures, visit www.coachrobertnichols.com
Instagram- @coachrobertnichols
Mr. Nichols has proudly run Union UTA since its opening in 2001. He was listed in and on the cover of the 2020 Action Martial Arts Hall of Honors history book and the 2022 cover. An anti-bullying consultant and martial arts business consultant, Mr. Nichols married his high school sweetheart in 2006 and lives with her and his daughter in western NJ. An active member in the community, both in his hometown and in Union, Mr. Nichols believes deeply in the value of martial arts training as a vehicle for self-improvement. He now proudly runs Union UTA with his daughter Alexa Nichols by his side.
United States and USA Martial Arts Hall of Fame Inductions:
2012- Instructor Of the Year 2012- Discipline Master of the Year 2014- School of the Year 2015- Discipline Master of the Year 2015-Outstanding Contributions to the Martial Arts 2015- International Instructor of the Year 2016- School of the Year 2016-Organization of the Year 2016-Distinguished Instructor 2017- Multiple Discipline Master of the Year 2018- Martial Arts Excellence 2021- Man of the Year 2022-Man of the Year 2022-National Instructor of the Year 2023-Action Magazine Hall of Honors Distinguished Martial Artist of the Year 2023- International Instructor Of the Year
Entrepreneurs Harald Magazine- Entrepreneurs to watch in 2022
Worlds Leaders Magazine- Worlds Most Influential Entrepreneurs
Worlds Leaders Magazine- 2023 Top rated Martial Arts School
Amazon #1 and Award winning Author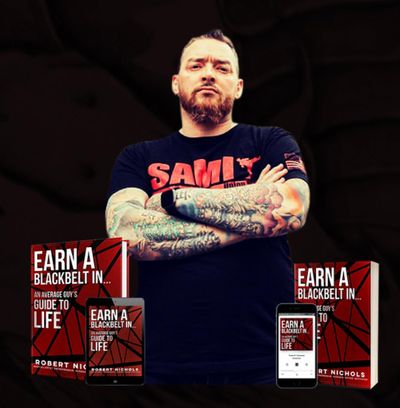 Our Chief Instructor, Robert Nichols is also an AMAZON #1 best-selling author and the winner of the 2022 International Impact award.
His award winning book, "Earn a Black belt in…. An Average Guy's Guide to Life." is now available in paperback, e-book, and audiobook.
This common-sense book covers topics like parenting, leadership, relationships, and more. All while Robert Nichols shares personal stories on these subjects.
Robert Nichols is also available for speaking engagements, martial arts business consulting, and SAMICS International Seminars. He is available for virtual events and travels the country teaching. Visit the website below for information.
Available on Amazon, Audible, and wherever books are sold!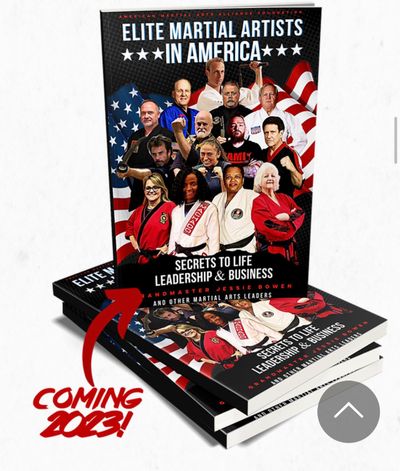 Best Selling Contribution Martial Arts book
"Elite Martial Artists of America," is a co-authored book featuring our chief instructor, Robert Nichols, alongside marital arts legends Stephen K. Hayes, Dana Abbott, and Jessie Bowen!
This compilation book will cover wisdom from America's leading martial artists. Leadership, motivation, and business are discussed from these legends.
Get your copy at www.coachrobertnichols.com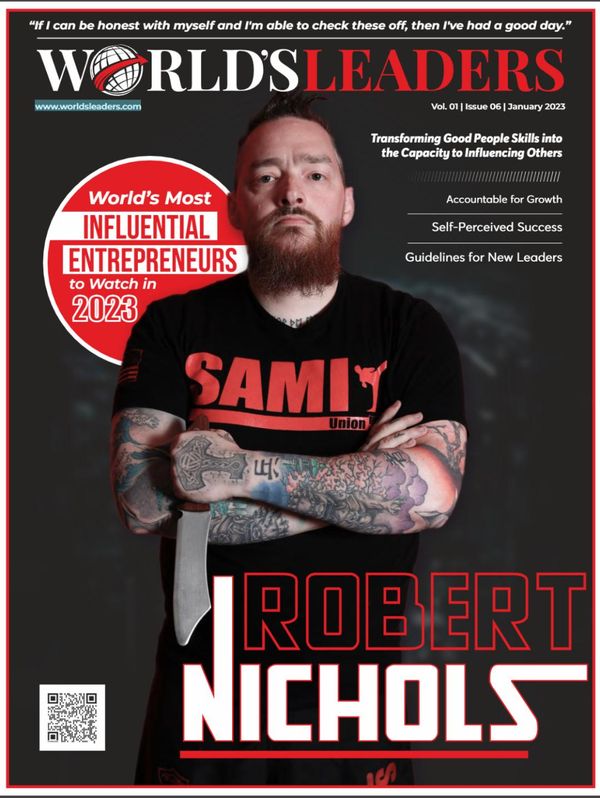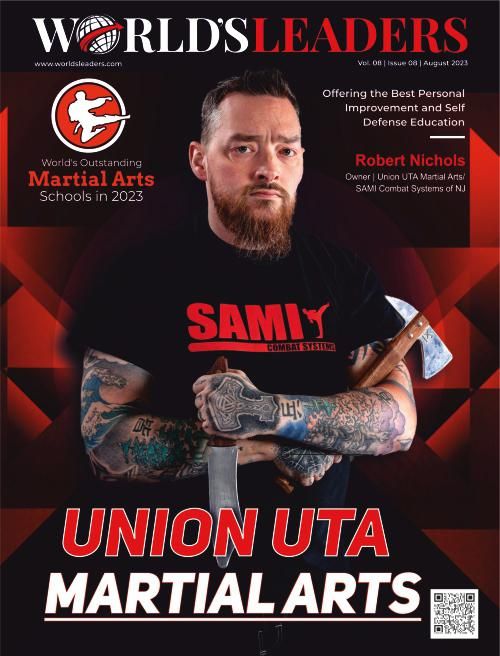 Worlds Leaders Magazine- Worlds Most Influential Entrepreneurs
Get started today with our FREE Trials! Experience our martial arts training program first hand and see how Union UTA Martial Arts/SAMI Union can change your life! For children, teens, and adults, we have the action-packed, fun, and disciplined classes for you!
The pride of our martial arts school is our interactive leadership program. Our leadership program helps students gain confidence and focus by providing them with tools to become leaders. Our leadership team is the group of instructors that run our martial arts classes daily. Each instructor is a certified martial arts instructor and trained personally by Mr. Nichols to teach our curriculum. Instructors range in age — though some may seem young, they have all passed a written, verbal, and practical evaluation. Instructors should be able to answer many questions about curriculum, events, and much more and can be a very helpful resource to parents. As well as junior instructors, we also have office personnel that are there to answer questions and assist parents in any way possible. Please feel free to speak to them about anything. More important than anything, our leadership team serves as mentors and activists in our community. Being an active member of this team is the ultimate goal of all of our students.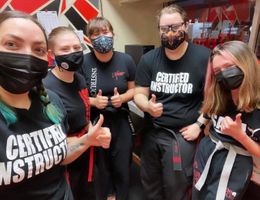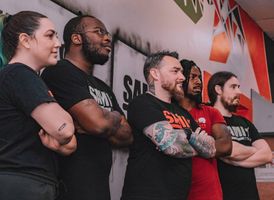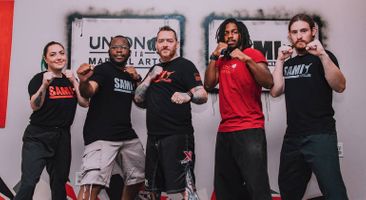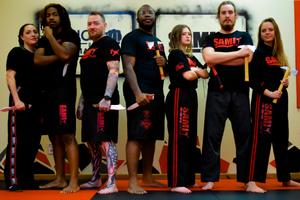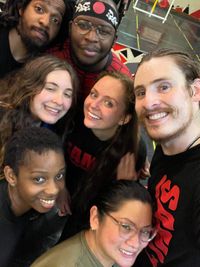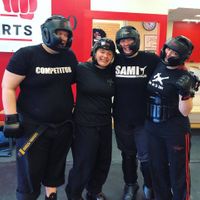 Meet some of our Staff
Certified Staff
AJ Cook- Mr. Cook began his martial arts training in 2016 he is a senior certified instructor at Union UTA martial arts holding a 2nd degree black belt as well as a Certified Sami Instructor holding rank in knife, panantukan, and axe. AJ has a passion for learning. Even seeking out knowledge from martial arts superstars such as Demetrious Johnson, Superbon Mawynn, Rodtang Jitmuangon, and Petchtanong Petchfergus. AJ shines in competition and has actively been pursuing martial arts tournaments as early as 2017. AJ took 2nd in color belt sparring at the ISKA US Open in 2017 and 1st place in color belt sparring at Amerikick International in 2018 before transition into full contact fighting. In 2021 he became the Streetbeefs Full Contact Heavyweight Kickboxing Champion. In 2022 he was inducted into both the United States Martial Arts Hall of Fame and USA Martial Arts Hall Of Fame as Competitor of the Year. 2023 United States Martial Arts HOF-TKD Instructor of the Year
Hezekiah Moore- He is an experienced martial artist and martial arts instructor. Driven by his passion for fitness and combative ability, he prides himself on his physical ability and competitive personality. His goals are creating a fun and safe teaching environment for students and fellow instructors as well as building a passion for martial arts in all who walk through our doors here at Union UTA Martial Arts/Sami Combat Systems. He is recognized by the Martial Arts Hall of Fame as the 2022 Black Belt of the Year.
Amanda McKenzie- Ms. McKenzie is a Senior Certified Instructor here at Union UTA. She is the first woman to be promoted to Fourth Degree Black Belt at our school. She has been studying various Martial Arts since the mid 90's and holds ranks in several other systems. She is the highest ranking female instructor and student in the United States through SAMI Combat Systems, holding certifications in Knife fighting, Panantukan, and Axe fighting. Ms. McKenzie often travels to Europe to train in these systems and collaborate with other martial artists around the world. In 2022 & 2023, Ms. Mckenzie was inducted in the USA Martial Arts Hall of Fame as Female Instructor of the Year and she has been featured in the Martial Art Women's Hall of Honors World History book. She is passionate about teaching self defense and mentoring LGBTQ+ youth.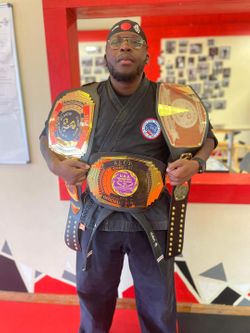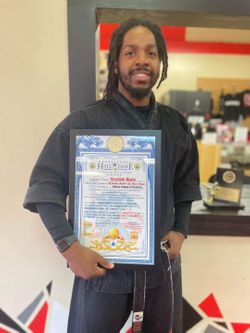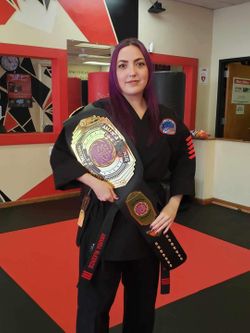 Our martial arts school opened in 2001 and since then we've grown tremendously! We've become a school of more than:

Large Staff of Assistants



Time Winner of Best Business from U.S Commerce
We try our best to stay connected to our students in a variety of ways. Do you follow us on:
Facebook (public): Union UTA Martial Arts
Facebook (public): SAMI Combat Systems of NJ
Facebook (Private): Union UTA Martial Arts/SAMI Union
Instagram: @unionuta
Instagram: @samiunion
Instagram: @coachrobertnichols
twitter: @UnionUTASamiNJ
Tik Tok: @UnionUTASamiNJ
YouTube: Union UTA Martial Arts/Sami Combat systems of NJ
Please help us grow with likes, follows, and sharing. and always tag your pics with #unionuta