Free Martial Arts Lessons
Martial arts training can be life-changing regardless of age or experience. We offer unlimited martial arts classes with no locked-in contracts, and no hidden testing or belt fees.
WE HAVE MARTIAL ARTS CLASSES FOR ALL AGES!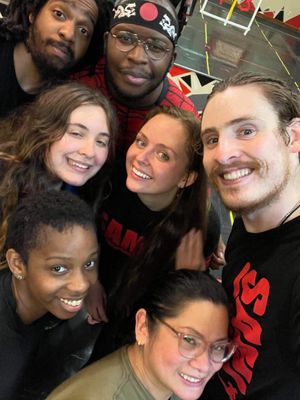 Teens & Adults Program
This martial arts training program is a great, friendly, and fun environment for teens and adults of all ages. Through these dynamic martial arts classes, students learn self-defense and enhance fitness and flexibility. This is truly a very -well integrated martial arts training program that combines fun and self-discipline.
SAMI Combat Systems
Martial arts training that is both tactical and combative. The SAMI combat system will challenge your coordination, reactions, and ability to move. Offered as a part of our adult program or separate.
Little Dragons Program
This martial arts training program is the perfect starting point for a mini martial artist starting at 5 years old. This program meets up to five times per week where a child can begin to learn the concepts of self-control, discipline, and simple body mechanics. All the basics of beginner-level martial arts training are incorporated into this fun-packed program.
Juniors Program
This martial arts training program is separated into beginner, intermediate, and advanced classes. A student can enroll at any time. We offer martial arts classes six days a week for every skill level. This class is perfect for any child, active or shy, between the ages of 6 and 12.
Read more below for a great way to get started!
Regardless of how you get started, we will make sure to give you the best pricing and specials we have to offer at the time of your appointment. That's our guarantee!
Click below to get started on an absolutely FREE, no obligation two-week trial. This martial arts training program includes unlimited classes for two weeks and a FREE private lesson for your first class (by appointment).
If you decide to enroll after the trail, get started and receive a free uniform!
WHY UNION UTA/SAMI UNION?
At Union UTA Martial Arts and SAMI Union, we strive to provide martial arts training in a consistent, mapped-out, intelligent process. This method of teaching provides greater skill and better overall well-roundedness in students. Our students gain exposure to:
Non traditional Taekwondo, Ninjutsu, kickboxing, ground fighting concepts, and assorted weapons training
SAMI combat systems (Dirty boxing, weapons training)
Character-development concepts
Leadership qualities
An adaptive learning environment
Committed staff members
A confidence-building system
Social environment
Goal setting in relation to age and experience level
A positive, judgment-free learning environment
WE ARE THE LARGEST MARTIAL ARTS SCHOOL IN UNION!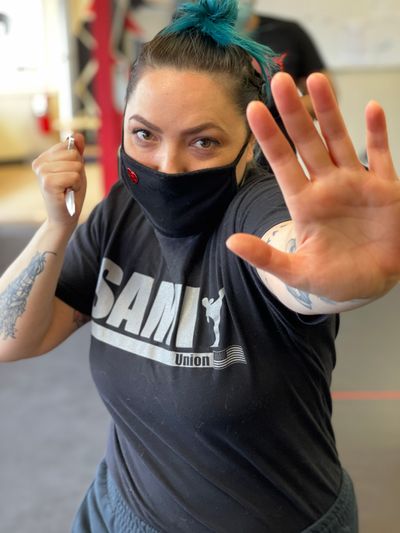 In 2001, Union UTA started as a traditional Taekwondo school. With great respect to this worldwide martial art, we chose to have more of an adaptive curriculum, evolving and adjusting to the needs of our students. Our martial arts training program grew to include aspects of kickboxing, ninjutsu, Judo, grappling, Kali, combative knife concepts, and MMA-style fighting. Not only do our students work toward their black belts in our martial arts training system, but through the practice of many aspects of the martial arts, focus on improving themselves as individuals.
With the variety of martial arts training, we focus on our student's development through building of coordination, self-discipline, goal-setting, and practical personal-protection skills. We have an adaptive and organic curriculum that grows and adjusts with the students.
Union UTA also hosts a number of other events annually, such as demos, parties, seminars, and testing. Union UTA has also participates in many local events, fairs, and outings. We feel a personal responsibility to be involved with our community and its members. We have Martial Arts students from, Union, Springfield, Elizabeth, Maplewood, Irvington, Roselle, Roselle Park, Westfield, Vauxhall, and surrounding areas in New Jersey.
With different goals for both our children and adults, Union UTA focuses on each individual's goals and growth. So regardless of a student's reasons for joining our martial arts training program, it's our commitment to excellence and service that help our students achieve! Contact us today to learn more or to sign up for free lessons!